Hail Damage Information for Homeowners
Q: What makes Colonial Remodeling an "Insurance Restoration Contractor" – why is that different from a regular contractor?
A: Colonial Remodeling knows every step of insurance recovery and has extensive experience in the insurance claims process.
Colonial Remodeling knows the insurance restoration process  (we've worked with thousands of storm damage homeowners and know what the insurance companies will pay and how it effects your claim, which could be a difference of thousands of dollars. There are no shortcut or quick-fix with Colonial Remodeling.
We know what is covered and what is excluded from insurance coverage so you are well protected from out-of-pocket other than your deductible.
We understand insurance related terms that could be confusing to you. We know the products that can restore your home even if the material is not available any more.
Retail-only contractors generally offer low bids to get the job and don't understand how to assess your damages properly. We understand how to get you the fair insurance claim money you need to your home properly.
Insurance Companies often deny coverage. In this case, Colonial Remodeling can resubmit your claim for re-evaluation.
Hail damage
Your roof takes a lot of damage when protecting your home from stormy weather. Hail can produce an enormous amount of damage to your roof, siding & windows. Hail over .75 inches can reek a lot of damage to the exterior of your home, as well. It can cause granule loss on roofs, dents, and dings in siding. Colonial Remodeling knows how to examine your home for weather damage – just ask us for our references.
The main signs of hail damage usually include:
– Bruised roof shingles (granule loss)
– Shingle granules found in gutters
– Small dings on gutters and downspouts
– Broken skylights
– Cracked or dented chimney cap
– Dented or ripped window screens
How do Roofs Wear Out?
Your roof is your home's protection from the elements of weather-related activity and naturally deteriorates over time. Damaging rays from the sun, unpleasant temperature fluctuation, exposure to wind, snow, ice, rain, and even walking around on the roof, are all wearing down your shingles year after year.
Asphalt Roofing Systems and Hail Damage
Millions of dollars of hail damage occur each year in the United States. Our area has seen a vast amount of storms in only the past few years alone. Many roofs that should be replaced aren't. Have your roof checked by Colonial Remodeling after a severe storm to avoid the problem worsening over time.
Further Reading for your Information on Hail Damage:
– Study from the North American Conference on Roofing Technology on the Impact of Hail on Asphalt Shingles
Questions and Answers about Hail Damage:
Q: I don't see any hail damage to my roof. What's the emergency?


A: Hail Damage can sometimes be hard to detect with the untrained eye. Colonial Remodeling can assess the damage by carefully going over your roof. Then you can have your insurance adjuster go up on your roof and inspect it for damage. The damage is sometimes visually subtle and you probably will never see actual holes or indentations – but, a heavier hailstorm can knock years off the life of your roof -you'll be glad you took care of the problem.
Q: How does the insurance company know there's been hail damage done to my neighborhood?
A: Insurance companies subscribe to different hail reporting and tracking services. These services can track the hail size, exact location it fell, time of day, and the date. This helps the insurance companies decide the validity of hail claims. If you had damaging hail, they likely already know.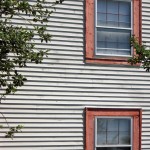 Q: What about my siding?
A: Check your siding when the sun is low and at an angle. This will make it easier to see the denting. Old aluminum siding will show the damage more than wood or vinyl, unless the vinyl actually has holes in it.
Q: How do I know I'm dealing with a reputable and experienced company I can depend on? (read article)
A: Storm chasers move to areas where there is storm damage so they can make a quick dollar – then leave the area. Check companies through the Better Business Bureau in your area to determine what state they are licensed in (to make sure that they are indeed licensed and insured in your state). Get referrals to guarantee you're dealing with a reputable company. If a company is not local and there are warranty issues, later you may have a problem locating them and getting their help.
(read Colonial Remodeling's Process)
Q: How do you handle the process with the Insurance Company?
A: If necessary, we will negotiate with the insurance company to get your claim money for your home. On occasion, if your adjuster is out of state, they may not realize that the Washington Metro area costs may be higher. We will be happy to point out differences in pricing to the insurance adjuster if it seems too low.
Colonial Remodeling will work on your behalf in representing you to make sure that your insurance company is properly identifying the scope of work needed, and the correct line item pricing that corresponds to that particular. We have years of insurance restoration experience of storm damage work which affects our area. We use the Haag Engineering standards on hail and wind damage, (the same industry standards insurance companies are using) which means that you're represented by the most knowledgeable contractor in the Washington DC Metro area.
Insurance companies use small areas of the damage to work up an entire claim – usually a 10 x 10 foot area. With a large home, this may not represent the true damage to your home. When Colonial Remodeling represents you, we include an entire roof diagram and use the same software used by insurance companies. We make the process clear and efficient so the process happens quickly.
Colonial Remodeling can help you every step of the way.
We give you an initial damage assessment.
We will meet with your insurance carrier if necessary and help communicate the issue thoroughly.
Complete any home needed and get your life and home back to normal as soon as possible.
Why Should You Have Your Home Inspected Today?
Your home is one of your most important investments, protect it.
Cosmetic damage to your siding will hurt the resale value of your home.
Damage to your roof may not be visible to the untrained eye until it has caused secondary problems like leaks.
Most insurance companies will completely replace your roofing, siding and gutters at no cost to you (except your deductible).
Most insurance companies have a limited claim period.
Why Should I Call Colonial Remodeling?
We are Local to Virginia, Maryland and Washington DC.
We are insurance recovery experts.
We have thousands of satisfied customers.
We conduct free, no obligation inspections.
We can work directly with your insurance company in restoring your home.
There is no "out of pocket expense" to homeowners.
We are licensed, bonded and insured.
We are a member of the Better Business Bureau & are a James Hardie Preferred Contractor.
All our work is guaranteed, plus you'll get a Labor Warranty on Colonial Remodeling's work.
Colonial Remodeling will help you get your life back on track by providing work "done the right way" – and represent you in your insurance claim adjustment.