ROOFING CONTRACTOR –NO. VIRGINIA VA, DC, MD, NJ

COLONIAL REMODELING HAS INSTALLED 1000'S OF ROOFS IN OUR SERVICE AREA.
WE ARE EXPERIENCED IN INSTALLATION & REPAIR OF ALL TYPES OF ROOFS AND WILL INSTALL YOURS WITH THE QUALITY WORKMANSHIP THAT MAKES A ROOF LAST.
New Construction
Re-roofing – Tear off, peel off, roof-over, and retrofit
Roof Repair Service (insurance claim specialists – call us first!)
CertainTeed Landmark™ Asphalt Shingles | Anbrook Cedar Shake Roofing | Ludowici Roof Tiles™
Protect your investment with a properly cared for roof. It's the first defense against weather elements. Contact leading roofing contractor in Virginia, Colonial Remodeling immediately if you've had severe weather damage and need insurance claim representation & repair.
Applying a roof system correctly is essential to the warranty and performance of the structure. Colonial Remodeling is so confident in our roofing workmanship that we Guarantee our Labor for 10 YEARS on top of the manufacturer's warranty.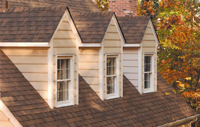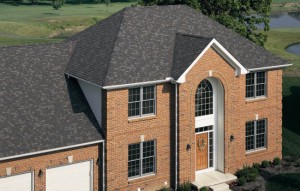 30-year, limited transferable warranty
When you choose Landmark shingles, you make the decision that assures the beauty, durability and security of your home for generations. Landmark takes your roofing to a higher level. It's engineered to outperform ordinary roofing, keeping you comfortable, your home protected, and your peace-of-mind intact for years to come with a transferable warranty that's a leader in the industry.
30-year, limited transferable warranty
5-year SureStart™ warranty (100% replacement and labor costs due to manufacturing defects)
10-year StreakFighter™ warranty against streaking and discoloration caused by airborne algae
5-year, 70 mph wind-resistance warranty
Wind warranty upgrade is available for Landmark up to 110 mph.  CertainTeed starter and CertainTeed hip and ridge are required
---




40-year, limited warranty
Anbrook manufactures its' shakes and shingles from cedar that is deemed unuseable by lumber companies; trees are not harvested exclusively for shake and shingle manufacture. They utilize wood that would otherwise go to waste.
Shakes & Shingles: Facts about Cedar Shake Roofing
Wood roofing has the highest insulation value of any of the wood substitutes.
Wood roofing is a renewable resource, and it IS being renewed in Canada, every day.
The energy required to grow this resource is free, it comes from the sun and rain.
Cedar shakes and shingles have proven to withstand 130 mph hurricane force winds; less and less damage and fewer repairs mean less impact on our environment.
Fully fire-treated products are available in Class A, B and C.  These are the same class of fire-resistance testing that ALL roofing materials are subject to.
Cedar does not leach harmful chemicals and waste into our earth at the end of their life; they biodegrade just as a dead tree in the forest would.
---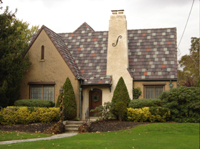 A flat interlocking tile available in five standard colors with a surface finish simulating natural slate. Also available in 5″ and 7″ widths to create a staggered appearance.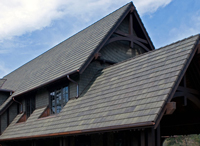 A lightweight flat interlocking tile with a hand split shake texture, available in 5″, 7″ and 10″ widths.
Ludowici™ offers an alternative to synthetic slate and shake, LudoSlate and LudoShake, a green, sustainable solution that combines the aesthetics of slate and shake with the unique and natural quality of clay.
Compared to natural and synthetic slate and shake, Ludowici is very competitively priced and offers a 75-year warranty.
The most natural, longest-lasting and affordable slate substitute available.
A natural slate alternative:

Slate texture and 3/4″ thickness
Random widths available
Easy to blend
Slate colors and blends
Unlimited color pallet
Easy to source and install
Lightweight at 600 lbs/square
Fewer pieces per square than natural and plastic slates
Walkable

Clay and Ludowici advantages:

A green product
Impervious to time and weather
Permanent colors and a 75-year warranty
Non-combustible and Class A fire-rating